Thanks again for stopping in to visit our site.
Many of the projects you see here were labors of love initially. I started into wood working in 1993 out of a desire to create for myself.
Much of what you see in the pictures was actually created out of necessity. Well the coyote and Aztec shelves anyway. Here is a picture of the very first shelf, sorry for the quality of the picture.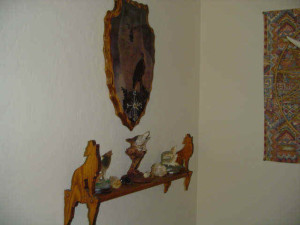 This shelf came into being just because I bought myself a scroll saw and was trying to familiarize myself with it. Boy did I break a lot of blades…….I used to be a bit of a rock hound back in the day and needed some place to be able to display stuff with some weight to it, but not drop a shelf off of a wall. The figurines came later.
Back in this time frame I stained everything. It is still a good looking shelf, but I really like how the burned out line accentuates my newer shelves.
The Aztec shelves came into being to be able to display the Indian busts and this porcelain eagle that I fell in love with. I found that there are not a great many shelves of the size, dimensions and stability to show such items without the worry of them falling or breaking.
Unlike the other shelves, I used a jigsaw here.
The design of this shelf set came into being to match the minor subtleties of the matting the in the pictures and helped draw my living room (at that time) together because of this thunderbird hall tree I had made. Believe it or not, this is one of my first projects—-Thank GOD for biscuit joiner tools.